Brind School Buzz
Dec 19
The University of the Arts has appointed Joanna Settle as the new director of the Ira Brind School of Theater Arts. Settle, a freelance theater director and educator, will begin her tenure at the university on January 13, 2014.
"We are excited to welcome Joanna to UArts," said university Provost Kirk E. Pillow. "She brings a rich history in, and an extensive knowledge of, all aspects of theater. Her leadership and her broad experience as a nationally-recognized director will help the Brind School achieve even greater levels of success."
A graduate of The Juilliard School directing program, Settle has directed and taught at undergraduate and graduate theater programs at The Juilliard School, Bard College, Cornell University and Brown/Trinity MFA.
"I'm deeply honored to be invited into the University of the Arts community, and I'm eager to lend myself to the continued success of our students and the growth of our programs," said Settle. "I can't wait to get to Philly!"
In 2014, Settle will direct two world premiere musicals by Stew and Heidi Rodewald, Family Album at Oregon Shakespeare Festival and The Total Bent at The Public Theater. Recent productions directed by Settle include Harry Clarke by David Cale at the Warhol Museum, Romeo and Juliet for Shakespeare on the Sound in Connecticut. Also at the Public, she directed Winter Miller's In Darfur, the finale of Suzan-Lori Parks's 365 Days/365 Plays and Stephen Brown's Future Me (SPF). Other directorial projects included the premiere of Heather Raffo's award winning Nine Parts of Desire at Manhattan Ensemble Theater, which she also restaged for the Geffen Playhouse, Berkeley Repertory Theatre, Chicago's Museum of Contemporary Art, MassMOCA, Seattle Repertory Theatre and Washington D.C.'s Arena Stage.
Settle served as the Artistic Director of Shakespeare on the Sound from 2009 to 2012. From 1998 to 2004 she was the Artistic Director of Chicago's Division 13 Productions, where she directed and/or adapted and designed 15 of D13's 17 projects, including BLOOD LINE: The Oedipus/Antigone Story, two plays by Sophocles, Macbett by Ionesco, and several Samuel Beckett shorts, including Cascando, Rockaby and Play.
"Joanna comes to the College of Performing Arts with extensive connections and experience in professional theater, and a passion for training creative thinkers and theater makers for the 21st Century," said K Williams, dean of the College. "With her guiding the continuing implementation of the university's innovative new academic plan, the Ira Brind School of Theater Arts will grow even stronger. I am thrilled that she is joining us at UArts."
Dec 16
To celebrate his final day in Acting Studio, Johnnie Hobbs, Jr's students made t-shirts and took this great picture.
Dec 02
Tonight we celebrate a remarkable man, Mr. Johnnie Hobbs, Jr. His dedication to his craft, his community, and above all, his many, many students will leave a lasting impression on the next generation on Philadelphia theater artists, The University of the Arts and the Brind School.
Please joins us in the Arts Bank tonight at 7pm to raise a glass in honor of the man who has given so much of himself to prepare young people for a life in the Theater.
His is a life worthy of celebration.
Nov 26
Silly, sensational 'Cinderella' -
For its 10th annual panto, People's Light and Theatre Company reprises its most successful venture into that festive British form: 2008's Cinderella. For audiences (with or without children) who missed the Barrymore-winning show its first time around, and those curious about all the panto fuss, the return engagement helps explain why this theatrical variant has been a holiday favorite across the pond since the 18th century.
There are many UArts connections in this article. From Pete Pryor (Acting '90) to Ryan Touhey (MT '09) to Costumer Rosemarie McKelvey who teaches Costume and Property Tech. I'm sure there are more connections than these!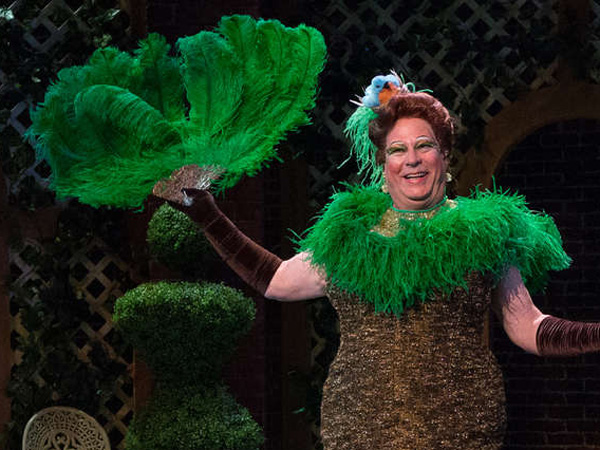 Oct 28
[video]
[video]
Oct 23
And here is another alum sighting. Davy Raphaely (ACT '01) and Leigha Kato (MT '13) are currently appearing in 4000 Miles at Philadelphia Theater Company. Annie Halliday (DPP '11) is also working on the production as Asst Stage Manager. Our Survey of Theater Arts students visited this production as well.
Here is a link to one of their reviews:
http://phindie.com/4000-miles-philadelphia-theatre-company-what-a-long-strange-trip-its-been-216/
Isn't this a handsome bunch?
Our students enrolled THEA*151 Survey of Theater Arts, which is course made up of most of our Freshman class, recently took a class trip to see Parade at the Arden Theater Company.
Among the cast and crew were some familiar faces. If you look closely you can find our alums Alex Keiper (MT '07), Elana Boulos (Applied Theater '09), Ryan Touhey (MT '09) and Ben Dibble (MT '00) who is also a member of our Brind School faculty.
Also, here is a great review of the production: http://www.newsworks.org/index.php/shapiroontheater/item/60460-review-parade
Oct 14
UArts SPRING AWAKENING Backstage Blog I -
A look into the first week of rehearsals for The University of the Arts' upcoming production of Spring Awakening, directed by Rick Stoppleworth! Spring Awake…
Musical Theater senior, Madison Auch, has been creating insightful video blogs about the creation of our upcoming production, Spring Awakening.
We asked her to write a little about her process and how she began to create these blogs. Here is what she said:
I started making video blogs my freshman year when I was music directing a senior piece - In This House. We wanted a way to get the word out about the show and get people excited about it and so, having just learned how to work iMovie, I volunteered to document the process, making blogs to share with everyone as we went through the rehearsals. After that it just stuck, and I started blogging all of the shows I worked on, in addition to a few others that directors asked me to come in for. I really enjoy doing it because it not only gets us publicity as we prepare to open and gives everyone involved a nice little scrapbook of the show once the run is over, but it's also a way of getting information about the school out there for others to see. I've had countless freshmen and prospective students reach out to me and say that seeing my videos is what got them excited about coming to The University of the Arts. All it takes is a basic understanding of iMovie, a director who's willing to let me run around during rehearsals with my camera, and a desire to share our work and our love for the production - now all I can do is hope that everyone else is as touched by the show as I have been and continue to be every day.
And after you've viewed this one, here are some links to some of the others. Enjoy!
Backstage Blog II:
Backstage Blog III:
Backstage Blog IV:
Backstage Blog V:
Oct 10
Preparing for Spring Awakening!
Here at the Brind School we are hard at work getting ready for our next production on our main stage Spring Awakening. Our dramaturg on the production, Aria Velz (Directing, Playwriting and Production, '14), has written some insightful program notes that we would like to share with you to get you ready for this terrific production. Tickets may be purchased at tickets.uarts.edu.  Enjoy.
But there's no where to hide from these bones, from my mind
It's broken inside - I'm a man and a child
So sings Melchior Gabor in a murmur, caught in the crux of adolescence and adulthood. LikeMelchior, the young people in Spring Awakening are deliberately misinformed, lied to, or ignored, not taught the lessons of adulthood and its consequences. Yet these children are held accountable, expected to never ask questions yet denied their right to know the nature of their desires. Based on German dramatist Frank Wedekind's revolutionary play, The Awakening of Spring, the musical Spring Awakening made its premiere Off-Broadway at the Atlantic Theatre Company in 2006, one hundred years after the premiere of The Awakening of Spring in 1906.
However, the fact that they premiered one hundred years apart was not a clever marketing hook or artistic homage by Spring Awakening's creators or producers, but rather a testament to the timelessness of the issues raised in The Awakening of Spring and the urge to constantly challenge social norms as we move into a new century.
Spring Awakening follows the topics its source play challenges, which are surprisingly, or just unfortunately, common throughout Western history: Sexual repression, suicide of youth, disenfranchised homosexuality, child abuse, just to name a few. Wedekind had a keen sense of society's pressing issues and the effectiveness of the cycle of oppression. His young characters try to break out of the mold of an oppressive German Imperialist culture, yet simultaneously push each other out of fear. But though we see through the eyes of children, he does not make the adults villains; they are trapped also, pawns in a larger, antagonistic system designed to make a regime out of every community and a solider of every individual.
Similar to the expectations his characters faced from their community, Frank Wedekind himself was a middle-class man unable to match expectations set by his father to be a lawyer. Though Wedekind did go to law school, he was dissatisfied with the lifestyle and dropped out, and his father subsequently disowned him. Wedekind then participated in a number of occupations - journalist for a magazine, secretary for an art dealer, and even an accountant for the circus - and in those numerous jobs he became acquainted with art and the artists' community. The Awakening of Spring was his first play, and after writing several plays that challenged Germany's sexually repressive society, most notably what are known as The Lulu Plays, Wedekind struggled with constant censorship by the German government, which considered Wedekind's work anti-German. Indeed, he understood the challenges of speaking out against an oppressive society, but was able to slip through the cracks that many of his characters could not avoid.
The Awakening of Spring finally premiered in 1906, ten years after Wedekind finished it, and produced by a reparatory company he founded himself. Critical response was polarized, to say the least. Some critics and artists lauded the play for its evocative subject matter and its seething critique of German middle-class and oppressive environment, while others found the play to be abhorrently pornographic and anti-German. This reputation of the play followed it across countries and continents. Even in the the United States, where freedom of expression is constitutional guarantee, The Awakening of Spring was subject to extreme censorship. In 1917, the play endured a grueling legal battle when a production was mounted in New York City; the Commissioner of Licenses was attempting to shut down the production altogether until a New York court gave an injunction to ensure that the play would premiere - for one single matinee with a limited audience. In fact, the first completely uncensored production of The Awakening of Spring was not until a very highly praised production at the National Theatre in Britain in 1974, nearly seventy years after the play first premiered.
All of the controversy does not just attest to the piercing themes of The Awakening of Spring, but they also distinguish Wedekind as a dramatist, to being a man who was, indeed "ahead of his time." In fact, it may be an understatement. Wedekind's work was a precursor to several artistic movements of the era, from Expressionism to Modernism, and he is considered one of the founders of modern drama. Like Van Gogh in painting, Wedekind is synonymous with the Expressionist theatre movement, although not by definition an Expressionist artist. While Realism sought to recreate something as true to life as possible, and Impressionism's goal was to create an individual perception of the subject, Expressionism's intent was to proclaim the artist's emotional experience with the subject, rather than the artist's impressions of the external world.
Wedekind's works, along with the work of August Strindberg and Oskar Kokoshka, are considered precursors to Expressionist theatre movement. Our particular production found great inspiration in the Expressionist elements of the musical, and seeks to find a fluid connection between the Expressionistic qualities of the music and the conflicted drive of the drama.
One of the Expressionist qualities of The Awakening of Spring that was never seen before was its episodic play structure. No scene directly follows the other; the play instead moves non-linearly, giving a general landscape of the world of the characters, reducing them to archetypes rather than three-dimensional characters so as not to focus on their individual struggles, but to identify the problems they face as a class, as young people in a rigid world. Along with his unique play structure and style, his overt political themes inspired many theatre artists to achieve new types of theatre and new implementation of old styles. Among the many artists who were influenced by Wedekind, Bertolt Brecht, founder of Epic Theater, cites him as his greatest inspiration; Brecht even attended Wedekind's funeral. He wrote in his diary that Wedekind was, "a ringmaster in a red tail coat, carrying whip and revolver, and no one could forget that hard dry metallic voice, that brazen faun's head with 'eyes like a gloomy owl' set in immobile features."
All of these innovations led to the creation of Spring Awakening, which seeks to honor the structure, style, and messages of Wedekind's original. First conceived in the 1997 at the Eugene O'Neill theater, lyricist and book writer Steven Sater wanted to create a musical adaptation of The Awakening of Spring, finding an operatic quality in the play he found worth cultivating. A few years after Sater and songwriter Duncan Sheik created some concept demo songs, much of which was cut or replaced, they quickly created a musical that would marry Wedekind's poetic dialogue with modern, alternative rock music. The reverberations of Wedekind's poetry is constantly heard in the lyrics, each song intermixed with anachronistic phrases. In Spring Awakening, the songs explode through the dialogue, and become the only opportunity for the characters to unleash their repressed thoughts and desires. The songs add on to Wedekind's original play, amplifying the characters' wants and their relationship to the world around them as they cry out to have their questions answered and longings quelled. And perhaps, in these songs, we may hear our own questions crying out.